Pan Flutes - Panpipes
The Pan flute is the specialty of our workshop. It's the world's oldest wind instrument from which other wind instruments or keyboard instruments (organs) are derived.
The instrument was known almost on all the continents. The most popular name of the instrument "Pan flute" comes from the name of the Greek god Pan who was the mythical pre-creator of the instrument.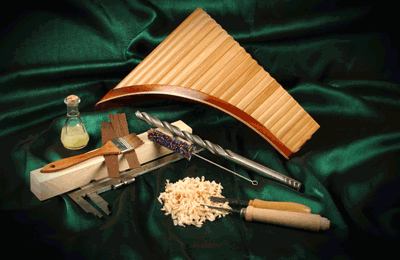 Gibonus Panpipes are currently made mainly from maple wood from the Polish Beskid Makowski mountains, while the Maestro group of instruments is made from cherry, plum and pear wood. Formerly the instruments were made from different varieties of bamboo. It is not, however, the best choice for good instruments that require perfect geometrical design. Bamboo is not cylindrical and its tube dimensions are variable which means that it is not possible to get a full, deep sound. Apart from that bamboo is not a durable material, it often cracks and some tubes may even stop producing sounds.
Our flutes are divided into two groups: Student - amateur instruments manufactured in production series and Professional - single instruments made to order personally by Marek Teśluk for professional musicians.

We hope that today, when the Pan flute is being born again, you will find in our instrument the beauty of its raw, dull and windy sounds.